ABOUT THE SHOW
From Saint Stephen to Sussex, visitors flock to this dynamic platform armed with plans to build, buy, or embark on exciting home renovation projects. In fact, our research show a staggering 82% of surveyed visitors had concrete plans to buy or build a home!
Seize this golden opportunity to connect with your target audience face-to-face. Thousands of eager homeowners rely on our show's unique environment to discover their next trusted partner in home improvement. Whether your goals include selling merchandise, generating valuable leads, building brand awareness, or test-marketing new products, the Saint John Home Show provides the ideal stage to shine!
EXHIBIT PRICING
Our Booth Packages will enhance your status as the industry leader that you are. Our all-inclusive exhibitor package includes:
Back & sidewalls drapery

Aisle Carpeting

Booth carpeting

Daily Booth vacuuming

Container Storage

Forklift services to and from your booth (up to 5000 lbs.)

Exhibitor Badges
PRICING: $10.00 per sq. ft.
(100 sq. ft. minimum)
Book Space
To fax or email your Space Rental Contract, please click the "Download" button to get a copy of the contract then send it to us using the information on the form. 
2023 Exhibitor List
A+ Solar Solutions*
Adams Pest Control
Aerus
All Star Heating & Cooling*
Apple Ridge Lumber
Armstrong Installers Ltd*
Atlantic Health and Safety
Atlantic Heating & Cooling*
Atlantic Mini Homes
Atlantic Roll Forming
ATS Construction
Back 2 Black Asphalt Sealing
Bath Fitter
Be You Canada
Bee Green Junk Removal
Bergman Landscape & Masonry
Bird Stairs
Blue Bird Storage
Budget Blinds of Saint John
Canada Life
Canadian Red Cross
Canadian Spa Company
Candock
ClearPower Solutions*
Colonial Manufacturing
Decorastone
Eastlink
Energie NB Power*
Expedia Cruises
Fundy Paving
Fundy Service Commission
Garage Kings
Get The Fog Out*
GLENTEL INC.
Grass Catchers
Green Diamond Equipment
Habitat for Humanity in New Brunswick
Hayward Healthy Home Solutions*
Health Canada
Health Protection Services
Heritage Window & Door
Home Hardware
Homesol Building Solutions*
Homestar Group
Huff N Puff Insulation
HVAC CleanPro Inc
HydroKleen Saint John
Innovative Heating & Air Solutions*
Irving Energy
Jordive
JTR Services
Kent Building Supplies
Krown Rust Control Saint John
Luc Morin
MCF Customs Ltd
Mike Holmes/CHFR
NB Lung Association*
Northeast Distributors
Novair*
Oakhill Homes
Park Fuels
Permadry NB
Pro Power Canada
Rawmer Industries (Culligan)
RBC
Recycle NB
RJB Builders Inc
Rogers
Royal Lepage Atlantic
Royal Nova Company
Saint John Energy*
Sherwin-Williams
Sun Life Financial
The Home Depot
The Snore Shop
Troy's Roofing
University First Class Painters
Vincent Homes
Wayside Sunrooms
Westmorland Homes
World Financial Group
*CLEAN ENERGY EXHIBITOR
DATE, TIME & LOCATION
Friday, March 8
12 noon - 8:00 pm
Saturday, March 9
10:00 am - 6:00 pm
Sunday, March 10
10:00 am - 4:00 pm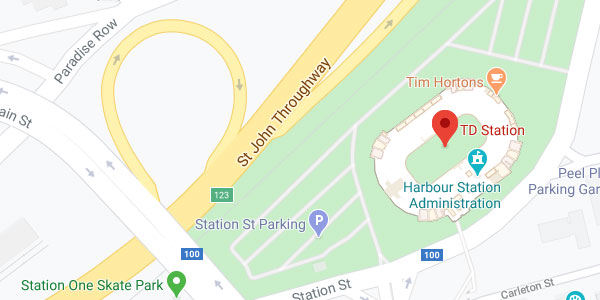 TD Station
99 Station Street
Saint John, N.B.
E2L 4X4
(506) 632-6103
Accommodations
Holiday Inn Express & Suites Saint John
400 Main St, Saint John, NB E2K 4N5
(506) 642-2622

Room Rate: $139.00

Call in and mention the Saint John Home Show 2024 Block to book.

Deadline to book: Wednesday, February 7, 2024