ABOUT THE SHOW
Return Of Southern NB's Largest Home Show
A Huge Success
Saint John, NB – TD Station came alive this past weekend for the 2023 Saint John Home Show, New Brunswick's largest construction and renovation showcase. The show floor was filled with the leaders of the home building, renovation, and energy efficiency sectors from all over southern NB and beyond!
We "put the home back in home show" this year with a beautiful single living home from Westmorland Homes inside TD Station. Thousands of visitors had the opportunity to tour the unit all weekend long.
"From energy efficiency, to renovation, or new home design, there was something for everyone to enjoy," said Pat Steeves, Show Manager. "The spring like weather this weekend, invigorated homeowners to get plans in motion to spruce up their space for the year."
Special recognition goes to our sponsors Irving Energy who gave visitors free parking during the show and Rogers who provided every visitor with a bag to carry all their goodies.
New this year, the show included a Clean Energy Spotlight for visitors to learn how to become more energy efficient in cost effective ways. The event touched on electric vehicles, solar panels, energy efficient heat pumps and more.
"The clean energy addition was exactly what the show needed," adds Steeves. "The innovations surrounding clean energy have been incredible the past few years, so it was time to give them a turn in the spotlight."
Visitors were also given the chance to enter the door prize upon entry into the show. Congratulations to Lou Barrieau who took home a 4-person hot tub courtesy of Canadian Spa Company. A big thank you to all who entered.
The show will return in 2024. For the latest information, stay tuned to the official website at http://www.saintjohnhomeshow.ca/ and follow the show on Facebook and Instagram.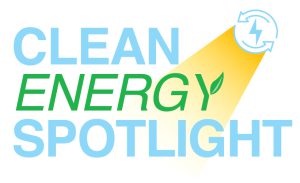 CLEAN ENERGY SPOTLIGHT
This year, the Saint John Home Show included a Clean Energy Spotlight for visitors to learn how to save money and become more energy efficient. This event brought together everything from electric vehicles and bikes, solar panels, smart home automation systems, energy efficient heat pumps and more.